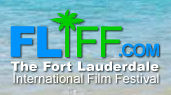 7 Fluid Oz. has been invited to screen their short film The Commitment at the 2012 Fort Lauderdale International Film Festival. The festival was founded in 1986, and quickly became one of the most prestigious and visited film festivals in the Southeast US. In addition, the FLIFF provides outreach to local film organizations in the Fort Lauderdale area.
To learn more about the film festival, please visit their official website.
To learn more about The Commitment, please visit the short film's official website or Facebook page.