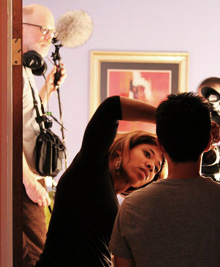 In 2011, 7 Fluid Oz. is celebrating its ten-year anniversary. From shorts to features to music videos to live concert DVDs to non-profit videos, 7 Fluid Oz. has contributed to a wide variety of Boston film productions. Highlights from 2011 include producing, directing, and editing two videos for The Schwartz Center (a non-profit organization working to strengthen the relationships between medical caregivers and their patients); producing and editing the short film The Commitment (currently in post-production), and beginning the pre-production phase of Descendants of the Past, Ancestors of the Future (going into production in 2012).
Over the past ten years, 7 Fluid Oz. has had the privilege of working with acclaimed artists and film professionals from around the United States. These artists and professionals include actor Stephen Root (Office Space, Dodgeball, King of the Hill); National Book Award nominee Alan Lightman; Jeff Most, producer of the cult classic The Crow and executive producer of the upcoming biopic, The Broken Tower, directed by and starring James Franco, and critically-acclaimed musicians Peter Mulvey and Chris Smither. In addition, 7 Fluid Oz. has developed long-standing working relationships with local actors/filmmakers Albert M. Chan and Dennis Hurley.
In celebration of its tenth anniversary, 7 Fluid Oz. recently upgraded its online editing system. The new workstation, featuring dual quad-core Xeon processors, an Nvidia Quadro graphics card, a Blu-Ray DVD burner, and both Avid Media Composer and Adobe Creative Suite Production Premium software, is currently being used to edit the short film The Commitment, directed by Albert M. Chan. To learn more about The Commitment, please visit the film's Facebook page: The Commitment.
From left to right, the above image features production sound mixer John Gage, key makeup artist Kandace C. Cummings, and writer/director/actor Albert M. Chan on the set of The Commitment.
Image © 2011 Chanal Productions.