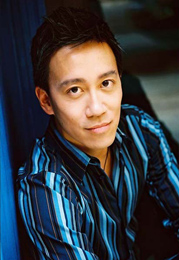 Friend-of-the-company Albert M. Chan, writer/director of 7 Fluid Oz.' recent production The Commitment, co-stars in Hallmark's new movie, The Makeover. The movie, which stars Julia Stiles, David Walton, and Camryn Manheim, premieres tonight at 9 PM ET/PT on ABC.
The Makeover is the story of Hannah Higgins (Julia Stiles), an education consultant who fails in a bid for Congress because of her cold, off-putting personality. Instead of giving up, though, she decides to groom someone else for the job—an intelligent, personable beer vendor named Elliot Doolittle (David Walton).
In this modern take on George Bernard Shaw's Pygmalion, Boston's own Albert M. Chan plays Pearce, Hannah Higgins's loyal assistant.
To learn more about Albert M. Chan, please visit his official website.
To learn more about Hallmark's The Makeover, please visit the movie's IMDb page.