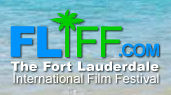 The 2012 Fort Lauderdale International Film Festival has announced that it will screen its "GLBT Shorts" program, which includes 7 Fluid Oz. Productions' The Commitment, on two different days. The program will now screen on Thursday, November 1st, at 4:00 PM and Saturday, November 3rd, at 6:00 PM.
To buy tickets for one of these screenings, please visit the FLIFF's "GLBT Shorts" page.
To learn more about 7 Fluid Oz. Productions' recent film, The Commitment, please visit either the film's official website or Facebook page.