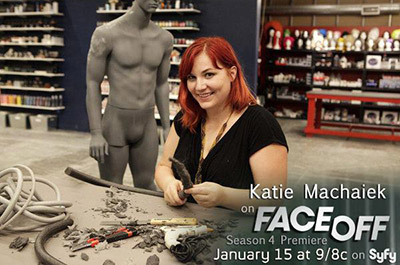 7 Fluid Oz. Productions congratulates Katie Machaiek on being selected for season four of Face Off. Face Off, which premieres tonight at 9:00 PM Eastern on Syfy, is a competition show that features special-effects makeup artists.
Katie Machaiek hails from Owls Head, Maine, but has spent the past few years working in Los Angeles. In 2006, before moving to the west coat, Katie worked with 7 Fluid Oz. Productions on their short parody of The Da Vinci Code, entitled The Albino Code. With a makeup budget of under $100, Katie went above and beyond, producing work that far exceeded the production team's expectations, especially given how little money was available for her.
Below and to the left is a photo of Katie (graciously provided by photographer Emre Safak) working on the The Albino Code: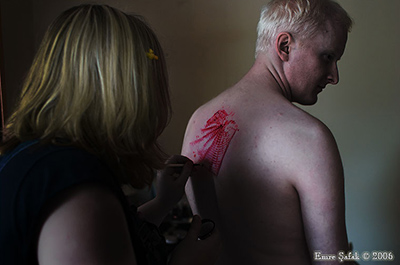 To learn more about Katie's work, please visit her Facebook page: Makeup by Katie Machaiek.
To see Katie's profile on the official Face Off website, please click here.
Congratulations again, Katie! We're pulling for you!
Image from the set of The Albino Code © 2006 Emre Safak