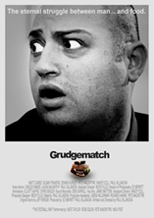 Paul Villanova, a Boston-area filmmaker and friend of 7 Fluid Oz. Productions, was recently selected by NewEnglandFilm.com to have his short film, Grudge Match, screen in the 4th Annual Online New England Film Festival. The film, written and directed by Villanova, is the story of a man trying to maintain his strict new diet at a Super Bowl party. Grudge Match stars Matt Carbo, Susan Travers, and Dennis Hurley, and takes a humorous look at the challenges people face while trying to lose weight.
Click here to watch Grudge Match.
Allison Rock, the Online New England Film Festival's director, recently sat down with Villanova to interview him about his film. Click here to read the interview.
Congratulations to Paul Villanova and the entire Grudge Match cast and crew!
Image © Paul Villanova