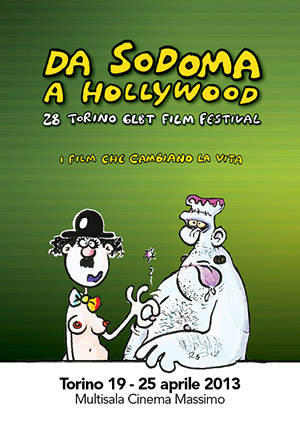 7 Fluid Oz.' award-winning short film, The Commitment, will screen at the 28th Annual Torino GLBT Film Festival in Torino, Italy. The festival runs from April 19 to to April 25, 2013, and The Commitment will screen on Monday, April 22, at 10:40 PM at the Multisala Cinema Massimo in the Museo Naziole del Cinema.
This event will be 7 Fluid Oz.' first festival screening in Europe. This is also the second time that The Commitment will screen at the same festival as Thom Fitzgerald's Cloudburst, starring Academy-Award-winning actresses Olympia Dukakis and Brenda Fricker, and Little Ones, written and directed by Marc Parees.
About the Torino GLBT Film Festival1
The Torino GLBT Film Festival was founded in 1986 by filmmakers Ottavio Mai and Giovanni Minerba. For three years, Mai and Minerba proposed the idea of a GLBT film festival to the Turin Provincial Council and the City Council of Turin, but both organizations ignored the proposal.
In 1985, the new Councillor for Culture, Marziano Marzano, supported the festival's founding, and since then, the festival has regularly premiered the works of influential filmmakers, including Gus Van Sant and John Waters.
To learn more about this year's Torino GLBT Film Festival, please visit the festival's official website.
To learn more about The Commitment, please visit the short film's official website or Facebook page.
1. "About Us." Torino GLBT Film Festival, n.d., http://www.torinoglbtfilmfestival.it/GLBT/festival/about-us/ (accessed April 8, 2013).