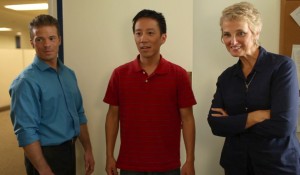 The National Association of Social Workers (NASW) has awarded 7 Fluid Oz.' recent production, The Commitment, with the 2013 Media Award for Best Feature Film. This year, over 1,700 people voted on the NASW's Media Award nominees, which were selected for their roles in raising awareness about the importance of social workers.
The Commitment edged out fellow nominees Moonrise Kingdom (Wes Anderson) and What to Expect When You're Expecting (Kirk Jones) to win this year's award. The Commitment features a social worker, played by Mary Niederkorn (pictured right), who helps an interracial gay couple, played by Jason Lane Fenton (left) and Albert M. Chan (middle), navigate their way through the adoption of a child.
About the NASW Media Awards
Each year, the National Association of Social Workers honors films, television shows, newspapers, magazines, radio programs, and websites that help raise awareness about the important role that social workers play in daily life. The NASW is also the largest organization of professionals in the world, with over 145,000 members.1
To see this year's complete list of NASW Media Award winners, please click here.
To learn more about The Commitment, please visit the short film's official website or Facebook page.
1. "About NASW." National Association of Social Workers, n.d., http://www.socialworkers.org/nasw/default.asp (accessed April 2, 2013).
Image © 2012 Chanal Productions