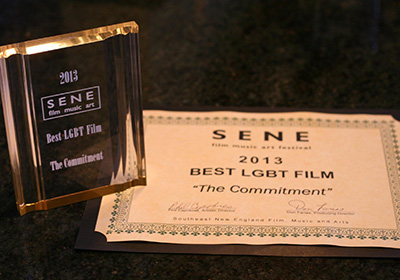 This past weekend, the SENE Film, Music, & Arts Festival presented its Jury Award for Best LGBT Film to the makers of The Commitment, 7 Fluid Oz.' recent production. Actress Alecia Batson, who plays a social worker in the film, was on hand to accept the award.
In addition to The Commitment, Ms. Batson was at the event to represent another of her recent projects, Children of the Asylum.
SENE Award Winners
Best Feature Film (Tie)
15 North and Everything Went Down
Best Music Video
Valencia
Best PSA
Stewardship PSA
Best Short Short Film
Killer
Best Short Short Comedy Film
Los Gritones (The Screamers)
Best Score
Everything Went Down
Best Student Film
Mother's Milk
Best HS Music Video
Make It Out
Best HS Documentary
Beautiful
Best HS Narrative Short
Vent
Best Documentary Feature
Fambul Tok
Best Short Film
Brave Girl
Best Documentary Short
ScrambleVision
Best Animated Film
Balance and Swing
Best Director
Sal
Best Cinematography
Sal
Best Comedy Short Film
The Guy Who's F*cking Your Girlfriend
Best LGBT Film
The Commitment
Best LGBT Comedy Film
Welcome to New York
To learn more about the SENE Film, Music & Arts Festival, please visit the event's official website.
To learn more about The Commitment, please visit the film's official website or Facebook page.