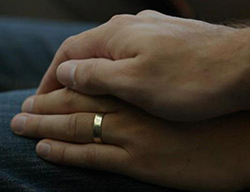 7 Fluid Oz.' award-winning production, The Commitment, has been selected for this year's QFest St. Louis. The film will screen tonight, June 8, at 8:00 PM at Webster University in the Moore Auditorium.
The Commitment will screen before Tennessee Queer, a feature film directed by Earl Goshorn. Tennessee Queer is the story of an openly gay man who returns home from New York City to make life better for LGBT youth in a small Tennessee town.
Tennessee Queer is Earl Goshorn's first feature film, and it was nominated for Best Narrative Feature at the Oxford Film Festival in Mississippi.
About QFest St. Louis
In 2013, QFest St. Louis enters its sixth year. Held at Webster University in St. Louis, QFest uses contemporary LGBT films as a way of highlighting, and creating discussions about, alternative lifestyles. QFest St. Louis programs feature films, short films, and documentaries.
Learn more about QFest St. Louis.
Learn more about Tennessee Queer.
Visit The Commitment's official website or Facebook Page.
Image © 2012 Chanal Productions