Boston Film—from Hollywood Classics to Modern Indies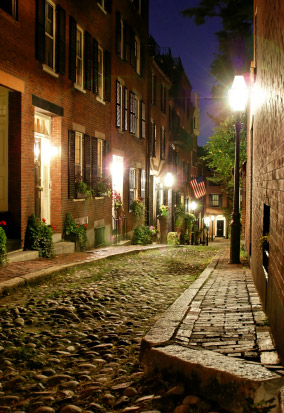 Because of the Massachusetts Film Tax Credit law, which went into effect in 2006, Boston has become a hotbed of film production. While the Boston film community has thrived because of these tax incentives, it's important to remember the other reasons that filmmakers come to Boston. From its modern business district to historic Beacon Hill, Boston has a rich, diverse architectural backdrop for filming. Moreover, the Greater Boston area is filled with bustling seaports, rolling farmland, and state and national parks.
The Boston Film Community
Boston's film community is overflowing with talented actors and crew, many of whom studied at the nationally-lauded programs of Emerson College; Massachusetts College of Art and Design; School of the Museum of Fine Arts, Boston; Berklee College of Music, and Boston University. In fact, some of the local cast and crew that 7 Fluid Oz. has worked with have gone on to work on major productions, including The Fighter, The Dark Knight, The Simpsons Movie, Reading Rainbow, Face Off, and 30 Rock.
Boston: a City of Diverse Culture and Love of Film
People unfamiliar with the city tend to think of Boston as a city filled with Irish-Americans. While Boston does have a strong tie to Ireland, it's actually a cornucopia of cultures. For instance, did you know that Boston has the third-largest Chinatown in the United States? Did you know that the Roxbury International Film Festival, which celebrates filmmakers of color, is the largest festival in New England to do so? Did you know that East Boston's population is made up of a diverse mixture of peoples, including Italian-Americans and immigrants from Central America, South America, and Southeast Asia?
A Brief History of Boston Film
The Boston area may only recently have become a national center of film production, but it has a long history of providing locations to a wide variety of critically-acclaimed films, from Hollywood classics to recent indies. Below is a small sample of these films:
Moneyball (2011)
The Fighter (2010)
The Social Network (2010)
The Town (2010)

Gone Baby Gone (2007)
Little Children (2006)
The Departed (2006)
Mystic River (2003)

Legally Blonde (2001)
Next Stop Wonderland (1998)
Good Will Hunting (1997)
Field of Dreams (1989)

Glory (1989)
The Verdict (1982)
Love Story (1970)
Who's Afraid of Virginia Woolf? (1966)