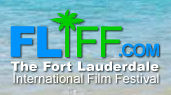 The curators of the 2012 Fort Lauderdale International Film Festival have officially released this year's schedule, and The Commitment will play on Saturday, November 3rd, at 6:00 PM. The film will play alongside other GLBT-themed films during the "GLBT Shorts" session at the Cinema Paradiso.
Other films in the session include The Committee, a documentary about the Florida State Legislature's little-known program to remove homosexual teachers from state universities during the 1960s; Nobody's Child, the story of a woman who chooses her gay friend to raise her child if anything should happen to her, and Appetite, a 3-minute film about two women on a date who become frustrated that words can't express their feelings.
To learn more about this session at the 2012 FLIFF, please visit the GLBT Shorts page.
To learn more about The Commitment, please visit the short film's official website or Facebook page.